I'm so happy. More markers came in the mail (dance of joy). And I even have pictures! Come look at my joy...
This first set is from Jennifer. She sent these babies way back when, and I finally got around to posting the pictures. Aren't they pretty. And the hand lotions smells wonderful.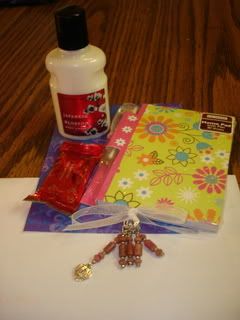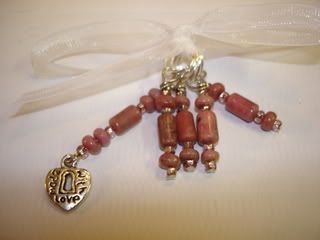 This second set is from Kena, who sent a wonder set of pretty and happy yellow beads. I love the loops, they're great for lace knittng.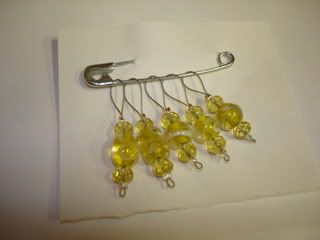 My third set is from Lynda. She sent a very pretty set of blue and green glass beads with bright yellow flowers in the center. Harbinger of Spring, I say. Along with the markers was a sinful looking bar of chocolate (I barely managed to snap the picture before my daughter spied it...). Thank you Lynda for the wonderful markers and treat. I also love the post card. The dragon is adorable. They're one of my favorite creatures.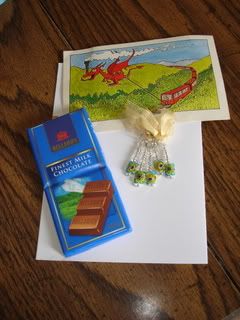 The fourth set is from Angie P. She sent a fantastic set of markers made from polished stones. The colors on these beads are fantastic. And perfect for lace knitting. Love them. Along with the markers, Angie sent a pot of hand cream (grapefruit ginger - I want to lick it!) and a nifty tool. It's a crochet hook on one end, and a pick on the other. I have no idea what it's called, but it is so useful! Also, nice and compact. Thank you, Angie. I love everything.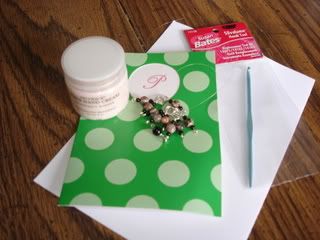 Thank you all for the beautiful markers and gifts.
Just one more set, can't wait.
Catherine